How We Farm
VITICULTURE AND WINEMAKING STEWARDSHIP:
From the beginning, the Frey family has tried to be committed to a winery that is not only located in the beautiful and diverse Willamette Valley ecosystem, but an integral part of it. Every step of the viticulture and winemaking process at Trisaetum is carefully planned to take only what we need from the surrounding environment, while at the same time giving back to it along the way.

Preserving Natural Habitat: each of Trisaetum's estate vineyards preserve 50% of the natural habitat of the land we own since a vibrant, healthy, ecosystem with over 100 species of plants, creates a healthier vineyard; and more complex wines.
Dry-Farming: all of Trisaetum's vineyards are, and have always been, 100% dry-farmed, relying on the Willamette Valley's natural climate to water and nourish our grapes. No irrigation is ever used.

Compost: 100% of all the skins, seeds, and stems from each of our harvests are mixed with manure to produce compost that is reintroduced into the vineyard the following year. 100% of all organic matter from the harvest is reused in the vineyard.
Cover Crops: our vineyards all have a microclimate of their own, and we choose to promote the development of each vineyard's unique environment rather than attempt to control it with fertilizer applications. Cover crops like legumes and barley promote nitrogen fixation and foster a symbiotic relationship with vineyard microflora.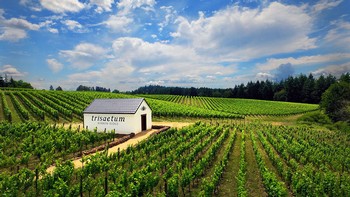 Biodiesel:
all of our vineyard equipment runs on 100% biodiesel and never on fossil fuels.
Zero Herbicides: no herbicides are ever used in the vineyards. Only hand hoeing and mowing are used to control over-vigorous grasses.
Hand-Harvested: all of our fruit is harvested and sorted solely by hand, preserving the integrity of the vines and the final product.
Fruit Yields Consistent with the Vintage: great care is taken not to pull too much from our vineyard ecosystems, and to manage yields within each vintage's unique dynamic to ensure that both sugars and flavors develop in sync.
Whole Clusters: we believe stems are part of the terroir of a place, and as such, are incorporated into red wine fermentations when possible.
Indigenous Yeasts:
all fermentations start with the indigenous yeasts already present on the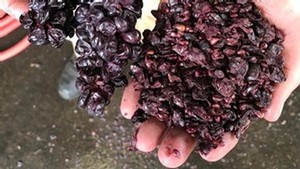 cluster of grapes. This maximizes the complexity of the resulting fermentations.
Minimizing Sulfur in Winemaking: by minimizing the use of sulfur during processing and fermentation, we allow for the native microflora and microbes on the grape skins to add complexity to the wine.
Hot-Water Cleaning: to avoid the use of potentially harmful solvents in cleaning our winemaking equipment, the winery is equipped with tankless propane water heaters that allow us to rely primarily on hot water for our cleaning needs, without having to store hot water when it is not needed.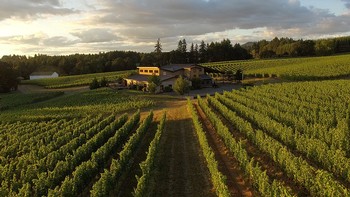 Water Conservation:
when our winery was built in 2006, an innovative roof structure was installed that has potential to collect rainwater into a 20,000 gallon tank that minimizes demand on our well and the environment. All of Trisaetum's water usage throughout the winemaking process and beyond is solely from the 20,000 gallon tank and our self-contained well in the vineyard.
Gravity Flow Winemaking: our winery is built on different levels to maximize our use of gravity when moving wine throughout the facility. As much as possible, we try not to waste energy or manhandle wines by pumping them through machines.
Barrel Cave: once the winemaking process comes to a conclusion, the wines are stored in our subterranean barrel cave which naturally maintains a year-around 60F temperature. Zero energy expenditure is required to cool or heat during the 12 to 18 months of élevage.
Community
Deep Roots Coalition: Trisaetum is proud to be a member of the Deep Roots Coalition, a group of winemakers and vineyard growers in Oregon's Willamette Valley, committed to producing world-class wines solely from dry-farmed vines.
1% For The Planet: Trisaetum's Tasting Room donates 1% of all sales to this network of like-minded individuals, businesses, donors and nonprofit organizations working together toward a common goal: protecting the future of our planet.
¡Salud! For Your Health: Since 2012, Trisaetum has been a member of the ¡Salud! Vintners Circle; a group of forty wineries dedicated to raising much needed funds to provide vineyard worker healthcare. Since 2014, Trisaetum has had someone on the ¡Salud! board, with James co-chairing the board in 2015 and 2016.
Chehalem Cultural Center: Trisaetum has been an active sponsor with the Chehalem Cultural Center since its inception in 2011. The Chehalem Cultural Center celebrates the arts, community, education, and heritage in an historic building that houses a fine arts gallery and exhibition hall, three multipurpose arts studio classrooms, a state-of-the-art clay studio, a recording studio with four music practice studios, and meeting space. James served on the board of directors from 2011 to 2014 and chaired the Finance Committee.