How We Farm
Natural Habitat: each of Trisaetum's estate vineyards preserve at least 50% of the natural habitat since a vibrant, healthy, ecosystem creates a healthier vineyard and more complex wines. A farm that is nothing but grapevines becomes a monoculture that can easily lose its sense of place.

Dry-Farming: each of Trisaetum's vineyards are, and have always been, 100% dry-farmed. When you use irrigation and vines have all the water they need at any time they need it, you take the natural water holding capacity of the soil and eliminate it from what makes a site unique. You also eliminate some of unique characteristics in the wine that come from a dry or wet vintage. We believe the terroir of a place includes precipitation.
Low or No Till: bare soil only transpires water; it does not photosynthesize or fix CO2 from the atmosphere. We choose not to till in our vineyard in order to maximize soil health.
Zero Herbicides: no herbicides are ever used in the vineyards. Only hand hoeing and mowing are used to control over-vigorous grasses.
Bee-Friendly Viticulture: vines may self-pollinate, but there is a whole living and breathing ecosystem that sustains them. Bees can't survive the cocktail of chemicals and the constant tilling of soils often used in modern viticulture. In 2020, we have launched a 5-year project with Bee Girl to sponsor research to help prove the link between the quantity of happy native bees and the quality of fine wine. By eliminating the destruction of native flora and being thoughtful about when we spray, our goal is to create an environment where bees are able to proliferate and thrive.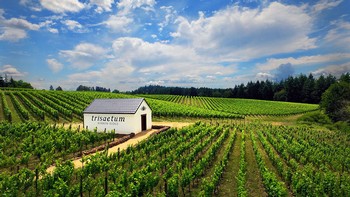 Wildflowers:
we have planted a five-foot row of wildflowers around our estate vineyards to provide a healthy ecosystem for native bees and other beneficial insects. These flittering, flying friends help dust up the native yeasts in vineyard used to indigenously ferment our wines.
Compost: 100% of all the skins, seeds, and stems from each harvest are mixed with manure to produce compost that is reintroduced into the vineyard the following year. 100% of all organic matter from the harvest is reused in the vineyard.
Hand-Harvested: all of our fruit is harvested and sorted solely by hand, preserving the integrity of the vines, the grape clusters and the final product.
Whole Clusters: we believe stems are part of the terroir of a place, and as such, are incorporated into red wine fermentations whenever possible.
Indigenous Yeasts: all fermentations start with the indigenous yeasts already present on the cluster of grapes, maximizing the complexity of the resulting fermentations and promotes a greater impression of the place in the wines.
Little to No Sulfur in Winemaking: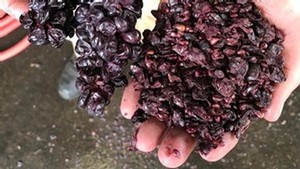 by using little to no sulfur during processing and fermentation, we allow for the native microflora and microbes on the grape skins to add complexity to the wine.
1% For The Planet: Trisaetum's Tasting Room donates 1% of all sales to this network of like-minded individuals, businesses, donors and nonprofit organizations working together toward a common goal: protecting the future of our planet.
Deep Roots Coalition: Trisaetum is proud to be a member of the Deep Roots Coalition, a group of winemakers and vineyard growers in Oregon's Willamette Valley, committed to producing world-class wines solely from dry-farmed vines.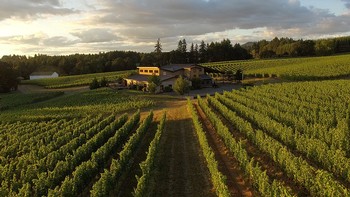 Community
¡Salud! For Your Health: a healthy ecosystem includes the people that work in the vineyard. Since 2012, Trisaetum has been a member of the ¡Salud! Vintners Circle; a group of forty wineries dedicated to raising much needed funds to provide vineyard worker healthcare. Since 2014, Trisaetum has had someone on the ¡Salud! board, with James co-chairing the board in 2015 and 2016.