About the Artist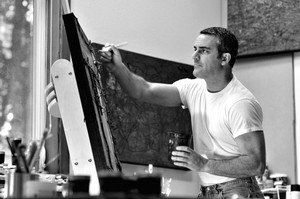 Our winery houses a 1,500 square foot art gallery featuring the paintings and photography of James Frey, Trisaetum's owner and founder.
Frey began taking and developing his own photos at the age of twelve. Three years later, he had begun working as a newspaper photojournalist and by the age of sixteen became the youngest recipient to receive an award from the California newspaper association for his work. He continued to work as a photojournalist in order to pay his way through college.
In his late twenties, Frey turned to painting and developed a passion for abstract expressionist works. His paintings of rich, deep hues and vibrant contrast create a powerful sense of color, shape, and energy. In order to create a greater tactile quality, at times Frey likes to incorporate vineyard cuttings and vineyard soil into a piece.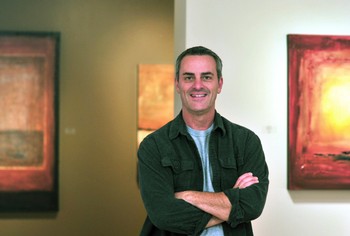 Q&A with James Frey (December 2012):
Q: When you start a piece, do you have a clear picture of what the end-product will be?
A: I know what I'm hoping to translate onto the canvas. What starts as a deliberate and planned composition often becomes more and more spontaneous as paint is added, taken away, and moved on the canvas. It often finishes close to the original concept, but let's just say it evolves through the process.
Q: You seem inspired by what goes on in the winemaking process. Is that an accurate assessment?
A: Yes, there's lots of inspiration in what we do in the vineyards and in the winery. The beauty of the Willamette Valley, the chaos of a fermentation and my feeble attempts to control it, the energy of crush...it's all rather energizing.
Q: So do you enjoy painting or winemaking more?
A: I wouldn't give either of them up.
Q: How similar are winemaking and painting?
A: They're both certainly a form of aristic expression, but there's a lot more science in winemaking to go along with the art. I have more control as an artist though because I don't have to worry and adapt to what Mother Nature decides to do.
Q: Does that lack of control with Mother Nature find it's way into your art?
A: Well, you usually see some attempt at structure in my art, which is probably an attempt to add a little bit of control and balance out the chaotic elements...much like you do with winemaking.