September 6, 2016 | Winemaking Team
Some Brut Rosé and Our First Pinot Ferments
Harvest is off to a great start as we've finished the first full week of fruit processing at Trisaetum. We've managed to pick, press, and begin fermenting selected blocks from all three of our vineyard estates — Ribbon Ridge, Coast Range, and Wichmann Dundee. Mother Nature gave us the window we needed to ensure sugar levels did not increase faster than the physiological ripeness of the grapes. Plenty of fruit is still waiting on the vines, but we're very happy with the small dent we've made in a relatively short amount of time.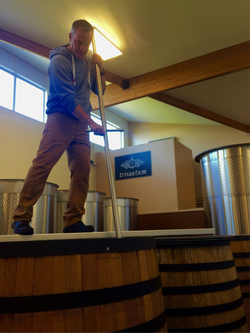 We started the week with a Chardonnay pick at our Ribbon Ridge Estate. The presses got a good workout and several barrels are already filled. After a quick taste on Friday the crew unanimously agreed that the ferments are progressing well. At our Coast Range estate, a cooler site compared to Ribbon Ridge, we picked a little Pinot Noir for our sparkling program. The acid, sugar, and pH were just right for blanc de noirs, so we picked and pressed some Coast Range fruit on Wednesday — it ended up giving us beautiful colors for brut rosé.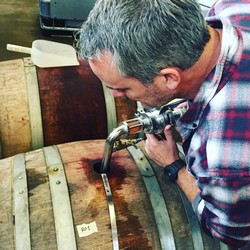 The second half of our week was busy sorting and destemming Pinot Noir from our Ribbon Ridge and Wichmann Dundee Estates. Thursday and Saturday were highly productive considering the large volume of fruit that arrived on our crush pad. The "all hands on deck" approach was as helpful as ever, and at some point every Trisaetum employee had a spot on the sorting line. It's a testament to their teamwork since our winery has a shorter list of personnel, and essential if we want to leave the building before midnight. We tackled 24 tons of fruit on Saturday alone. But who's counting?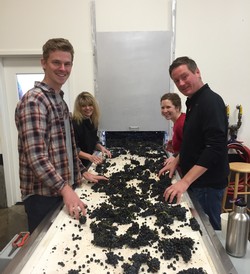 It's great to see several of our fermentation vats filled again, and even more encouraging seeing the native yeast already hard at work. New aromas have been developing with each passing day — especially in our two ferments with a 50-50 whole cluster-to-destemmed ratio. How do we know that the wild and added yeast is reacting with the grapes? After we press into the vats with the punch down tool, we can see a bunch of little bubbles rise to the surface. This means that the yeast is converting some of the sugar into alcohol and carbon dioxide.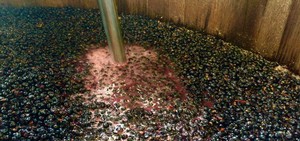 We are currently employing a mix of punch-downs and pump-overs in the tank hall each morning and again each evening. It takes some muscle to punch through the grape cap (especially with 50 percent whole cluster ferments), but the intern team is quickly adapting to the daily workload and performing at a high level for us.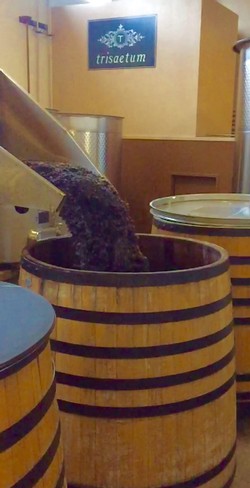 The checklist wasn't short this week — logistics and preparation were paramount in the daily workflow. Vibes are good and spirits are high. We'll see how we end up in another seven days!