September 14, 2016 | Winemaking Team
Meet The Trisaetum Harvest Interns!
Hugh McCullough
My background in wine has been in the UK, where I grew up and went to college, as a sommelier and retailer. I first began enjoying wine in England working as a waiter, and then in Scotland where I was studying and working as a Somm and retailer. Scotland's wonderful fresh seafood and delicious produce fostered a love for enjoying wine all the more. When I graduated I wanted to learn more about wine production and have been traveling between Australia's Barossa and Tamar Valleys and the Pacific Northwest for the past two years, with Oregon's Willamette Valley being my fourth harvest. It is very special to live and work in new regions, as there is always the opportunity to learn more techniques and processes and of course try more wines. The Northwest, in particular, is a very special place to me, with its dramatic mountains, the Gorge and beautiful, open farmland. I also have family in Portland and have loved visiting in the past. Therefore Oregon's wine country was always somewhere I wanted to work and I was drawn to Trisaetum by my love for elegant, cool climate wines — Riesling in particular. The welcoming, passionate and innovative environment here has been a joy to work in and as harvest continues — and the Riesling continues to ripen — I am getting more and more excited. Learning from James has been one of the harvest highlights so far — from tastings of juice samples through to finished wines I have been able to develop both my palate and my understanding of what each vintage means for him and for his and Andrea's beautiful vines. As Mother Nature continues to be kind to us with beautiful weather and wonderful fruit I hope to continue to learn and put my head down to make 2016 one to remember!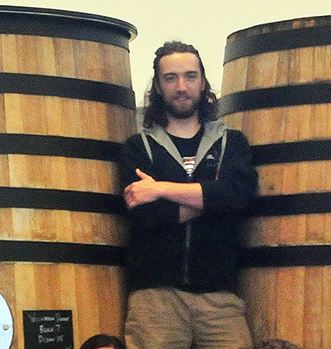 Carlos Vizcaino
I started like most people, while I was abroad in Spain. Over there a glass of wine costs you a euro while a Coke costs two or three. I ended up drinking a lot of local, regional wines — the people and culture made it very immersive. Later on I started traveling a bit more and to subsidize my traveling I started Bartending and developing a palate and tasting more and more wines. About a year ago on a whim I decided to start the Court of Master Sommeliers and passed the intro test about a week later. I was a restaurant director and sommelier on South Beach in Miami for a few months before I went back to Spain for a few weeks and decided to learn more about winemaking. Six months later I'm here in Oregon up to my shoulders in barrels and up to my knees in grape skins and loving every minute of it.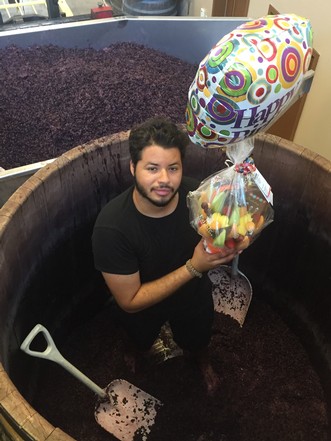 Justin McHeffey
My time in Oregon wine country has been filled with exciting experiences in a completely new professional role. I'm a former TV Meteorologist from Denver, Colorado. Although I join the harvest team with only a basic understanding about wine, I'm quickly building my lexicon and an appreciation for all local varietals. Trisaetum's dry and off dry Rieslings have become my absolute favorites. I'm looking forward to the next few weeks of harvest as we begin to process Riesling from the Coast Range and Wichmann Dundee estates. While working as a meteorologist, I attended an annual weather conference with climate experts, atmospheric specialists, and other members of the TV industry. One year, we had a speaker that presented on the subject of "Weather and Wine." Other than being an instant topic of interest, I got my first academic introduction to wine. We learned about how growing regions can be impacted by changes in global circulation and long-term climate patterns. Even if I wasn't directly invested in the wine business at the time, everything does seem to come full circle — look where I landed! I'm enjoying broadening my horizons on Ribbon Ridge and can't wait to taste this wonderful vintage.