October 6, 2016 |
Winemaking Team
The release of our 2015 Ribbon Ridge Estate Chardonnay this week comes at a time when we've just harvested our first-ever Chardonnay from one of our other vineyards, the Coast Range estate. We're excited to produce two Chardonnays made from the same grape clones, same farming, same fermentation, and same selection of French oak barrels, but that end up being quite different due to the unique qualities of each vineyard.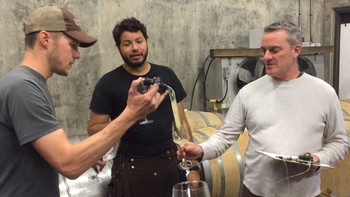 One advantage of having multiple vineyards is the opportunity to taste how the individual terroir can be responsible for variations in aroma and flavor. Dating to 40 million years old, soils from our Ribbon Ridge estate are composed of marine sediments that were once under the Pacific Ocean. Within the gently sloping vineyard, we find a mixture high-quartz sandstone and weathered bedrock — made up of Bellpine, Sitton, Wellsdale, and Dupee from the Willakenzie series.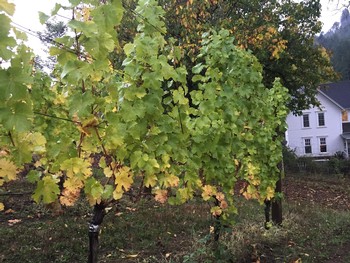 We find an older suite of rocks and minerals at our Coast Range estate. Located in the Yamhill-Carlton AVA, the steep hillsides are 45 million years old and host an extremely diverse collection of soils. Sedimentary rock and intrusive volcanic basalts have created Trisaetum's most rugged vineyard, with terrain that gradually climbs into Oregon's Coast Range Mountains. A combination of sedimentary Hazelair and Bellpine, as well as volcanic Jory, Gelderman, Nekia, and Witzel form the Coast Range estate terroir.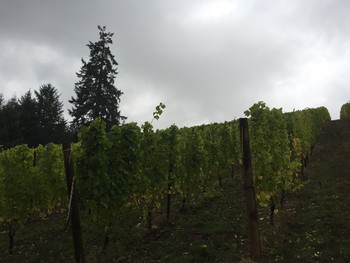 Dijon 76, 95, 548, and Davis 108 grape clones were planted in both vineyards. The inaugural 2015 single vineyard Chardonnay from Ribbon Ridge displays aromas of lemon zest, vanilla bean, and cloves with notes of crisp Fuji Apples, Bartlett Pears, and a vein of minerality on the palate. Our 2016 Coast Range Estate Chardonnay is halfway through its fermentation and has developed a fascinating difference in character. We're already looking forward to tasting their side-by-side expressions of flavor this time next year!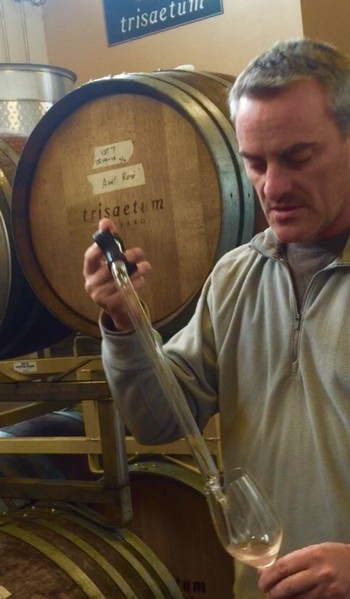 A symbolic move towards the end of harvest came this week when we dismantled the sorting line. Out goes the processing equipment and destemmer, in comes an assortment of barrels fermenting white wines from all three Trisaetum vineyards!