Finding the Coast Range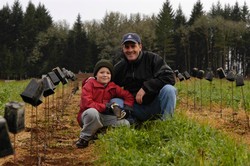 In 2002, James made the first trip to the Willamette Valley in search of the perfect site to start a vineyard. There was little success. He made a second trip. There was little success. By early 2003, Andrea had joined him for a third trip. Again little success...until their last day in town and their last site to view. They drove the windy road to a fifty-two acre parcel in the foothills of the coast range, scratched their heads at the century old farmhouse that stood in dreadful need of repair at the bottom of the property, climbed the four hundred feet of elevation through thickets of blackberry thorns and waist-high fescue that covered the former cattle ranch, read the geologist report, envisioned how a vineyard might someday wind its way down the steep and rocky terrain, and sat breathless at the top of the site watching a storm roll in over the coast range mountains to the west. There was no question that fortune had favored them. This was the place.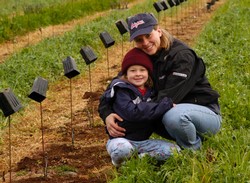 Preparation for planting the estate vineyard involved mulching twenty-five acres of overgrown berry bushes, ferns, thistle, and hawthorne; relocating the thirteen deer that called the vineyard blocks home to another portion of the property where they wouldn't be tempted to eat the grapes (a fence helps); ripping and disking and moving load after load of rocks by hand to designated rock piles throughout the property; inserting in the earth the steel pencil rods that would protect the baby vines and help them grow straight and true; and then and only then, planting each vine one-by-one into their chosen place.
After two years, the preparation work was finally complete and eighteen acres of the Coast Range vineyard were planted in thirteen different blocks of the Pinot Noir clones Pommard, Wadensvil, Dijon 777, Dijon 115, and Dijon 114, and four acres planted with Riesling.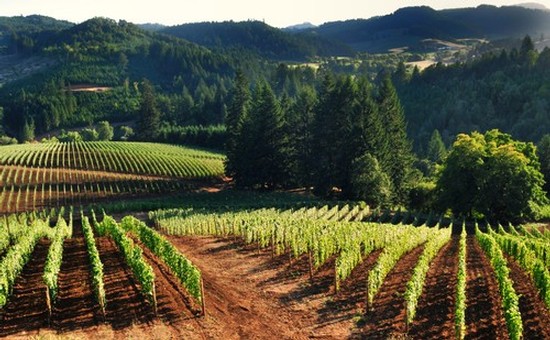 Trisaetum Coast Range Vineyard