Early Years & Beginnings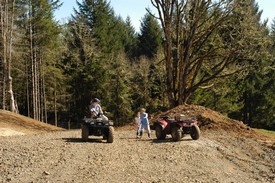 How that unique corner of the world became Trisaetum Vineyards began a few million years later in 1995, the day after James and Andrea Frey were married. Driving from their wedding in Sedona to their camping honeymoon in Yosemite, fate intervened when a mid-June snowstorm blanketed the national park. Their honeymoon destination now closed to the public, the newlyweds sat in the remote town of Ely, Nevada and contemplated whether to turn around and go home, turn right, or turn left. They choose left and ended up in Napa Valley where they spent three days wandering through vineyards, laughing about their misfortune, visiting tasting rooms, touring various wineries, laughing some more about their misfortune, and developing an instant love affair with wine.
Within a few years this love affair of wine matured into a love affair with both Pinot Noir and Riesling. James planted a small vineyard in the couple's backyard and began taking over various rooms in their home to experiment making wine. After the couple welcomed a son Tristen and daughter Tatum (for whom Trisaetum Vineyards is named), the entire family began to work each year's small crush, and talk of moving the family to wine country became a more frequent conversation; a conversation that seemed to always finish in the same place, the Willamette Valley of Oregon.