James Frey
Winemaker/Owner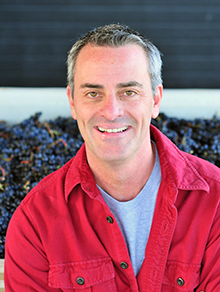 From his days growing up as a photographer in Santa Cruz to those running a large corporation; and now as a winemaker, business owner, and abstract expressionist artist, James has always been a confusing mix of right-brain and left-brain. He has been creating art for more than two decades, and making wine for the past 13 years since first planting a vineyard in his backyard. He holds master degrees in both exercise physiology and business---neither of which help much with painting or winemaking.
Asked to wear a number of hats for Trisaetum, we often have to send out a search party to track him down in the vineyard, barrel cave, art studio or any number of places we're convinced he disappears to in order to flee his more mundane responsibilities.
Business owner responsibilities aside, James is in charge of crafting Trisaetum's Pinot Noir and Rieslings. Away from the winery, he creates the contemporary art that is showcased in the winery's art gallery.
Board Member, ¡Salud! Steering Committee
Board Member, Oregon Pinot Camp
Board Member, McMinnville Education Foundation
Past Board Member, Chehalem Cultural Center
Past Board Member, Chehalem Mountain Winegrowers
Past Board President, Orange County Marathon